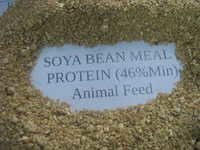 Soybean Meal
Product Description
Soyabean Meal is the by product that is obtained by the extraction of soyabean oil. Enriched with high nutrients, our offered meal is known to be one of the essential sources of protein that finds usage in animal husbandry for feeding livestock. In order to ensure that the vended product reaches safely at its destination, it is packed using food grade packaging that keeps moisture, dust and germs out to prevent it from spoilage.
Features:
Rich source of protein
Longer shelf life
Free from adulteration
Soyabean Flavored Animal Feed - Argentina / Brazil Origin
Soyabean Meal is residue left behind after extracting the entire oil from the soybean. The oil is extracted using solvent extraction or expeller method. Each of the technique is used after the beans are warmed. Nourishing value of the offered product is extremely high and is incomparable to the plant protein source.
Typical Analysis (Solvent extracted soybean meal 48)
Dry matter
89 %
Crude Protein
48.0 %
Fat
01.0 %
Crude fiber
03.0 %
Neutral Detergent Fiber
07.1 %
Acid Detergent Fiber
05.3 %
Calcium
00.2 %
Phosphorus
0.65 %
Total Digestible Nutrients
78.0 %
Net energy-Lactation
81.1 Mcal/100 lbs
Main technical Parameters:
dry material: 88,7500 %
protein: 42,5900 %
lipids: 1,6950 %
ashes: 5,9940 %
sodium: 0,0200 %
methionine: 0,5641 %
lysine: 2,5917 %
threonine: 1,6681 %
tryptophan: 0,5770 %
arginine: 3,0494 %
isoleucine: 1,9214 %
valine: 2,0322 %
Linoleum accid: 0,2282 %
FDN: 13,6040 %
FDA: 7,6010 %
energy (brut): 4.162,2155
Contact Us
205, Silver Pearl, 213 Waterfield Road, Near China Gate, Bandra West, Mumbai, Maharashtra, 400050, India
Phone :+918068090926